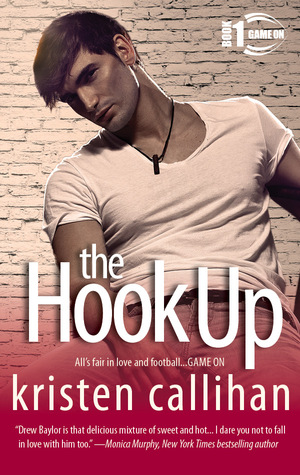 The rules: no kissing on the mouth, no staying the night, no telling anyone, and above all… No falling in love.
Anna Jones just wants to finish college and figure out her life. Falling for star quarterback Drew Baylor is certainly not on her to do list. Confident and charming, he lives in the limelight and is way too gorgeous for his own good. If only she could ignore his heated stares and stop thinking about doing hot and dirty things with him. Easy right?
Too bad he's committed to making her break every rule…
Football has been good to Drew. It's given him recognition, two National Championships, and the Heisman. But what he really craves is sexy yet prickly Anna Jones. Her cutting humor and blatant disregard for his fame turns him on like nothing else. But there's one problem: she's shut him down. Completely.
That is until a chance encounter leads to the hottest sex of their lives, along with the possibility of something great. Unfortunately, Anna wants it to remain a hook up. Now it's up to Drew to tempt her with more: more sex, more satisfaction, more time with him. Until she's truly hooked. It's a good thing Drew knows all about winning.
All's fair in love and football…Game on.
New Adult/Contemporary Romance with a HEA - Recommended for readers 17 and older.
4.5 Battle Butt Baylor stars
"You've destroyed me, Anna Jones."
Anna is a regular girl who doesn't know what she wants to do in her life. She is in college now, trying to stay as unnoticed as possible, but this seems impossible, especially when the quarterback from the football team, Drew Baylor, sets his eyes on her.
Drew may be a local star, but he's not the guy everyone thinks he is. How is he going to make Anna see that, when she's so stubborn and wants nothing from him? Especially after their hook up, which only proves that she also wants him, but doesn't want a relationship with him?
The rules: no kissing on the mouth, no staying the night, no telling anyone, and above all… No falling in love.
The Hook Up was a book that I owned for a while now and I still don't understand why I hadn't read it earlier! It was really amazing, even though the first part of the book had left me disappointed, thinking 'oh shit insta love is on the menu'.
But thankfully the plot had me changing my mind and most of all Drew. His character was so flawless that had me drooling all over him, thinking 'I wish there were guys like him in real life.' Maybe there are, I just hadn't been lucky enough to find my personal flavor of Drew ;)
Anyway, thanks to Kristen Callihan now I have another book boyfriend to add to my list. Because let's face it, Drew was perfect. He was so romantic, every time he opened his mouth my heart was melting. Every time he did something, I would look like a puppy to my screen, thinking:
He broke my heart to pieces and his story was so heartbreaking and his character was so well shaped, I just can't find a flaw in his character and I would gladly have his babies.
I have to admit that I didn't feel the same affection for our dearly heroine, Anna. I could understand her fears and I supported her, but she was pissing me off. Yes, I got where she was coming from, but Drew was so perfect to her and since day 1 he was crystal clear about what he wanted, she was just trying to keep that distance and her whole insecurity just had me in rage, since my heart was aching for Drew.
I may be unfair and harsh and I have to admit that I pitied her by the end, but it was too late for me to consider her likeable when she finally got her shit together.
"I like you just the way you are, Drew Baylor."
Anyhow, I would definitely recommend to my friends this book, because it was cute, funny, steamy and even if it had a little bit drama, it was still a beautiful book. And you definitely have to meet Drew! ;)
**BR with Alice, Patty, Stephanie & Dee** :))