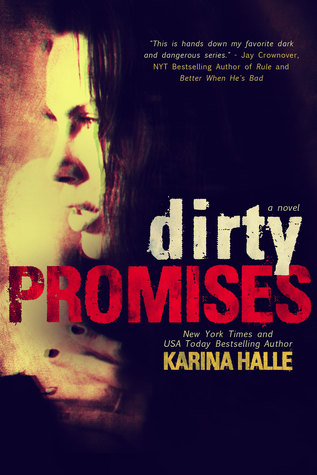 Dirty Promises is the final book in The Dirty Angels Trilogy. While the first two books can be read as standalones, Dirty Promises can not. Reading Dirty Angels and Dirty Deeds beforehand is HIGHLY recommended.

Also, people sensitive to violence and immoral characters who make questionable decisions should refrain from reading this book. The real cartel life is not pretty, not easy and certainly NOT romantic and that is more than reflected in Dirty Promises.
Blood. Sex. Revenge.
It ain't easy being king.
Drug lord Javier Bernal has sliced and diced his way to the top of the Mexican drug trade, presiding over the country's largest cartel. But his rise to power comes at a brutal price: the death of his sister, Alana. Devastated and wracked with guilt, he turns away from his new wife, Luisa, forcing their marriage into a steady decline. But it isn't until she's pushed into the waiting arms of Esteban Mendoza, his right-hand man, that Javier realizes everything he's lost.
And it isn't until he learns the truth about Alana, that he realizes everything there is to gain.
Blood will spill.
Cities will burn.
Heads will roll.
Because Javier will stop at nothing until he gets what he wants.
And what he wants is raw, ruthless revenge.
The most dangerous man is the one with nothing left to lose.
5 dirty stars
Luisa's life as wife to Javier Bernal, one of the greatest drug lords in Mexico, had been nice, until a tragic loss in Javier's family. Javier is now changing, becoming more cruel, more souless, but mostly what hurts the most is that he becomes distant.
She used to be his partner in crime, helping him with his business, but now Luisa feels lonely and betrayed by the man she loves and vowed to stay by his side for the rest of their lives.
Esteban's plan is working and Luisa is going to fall into his arms, while she's seeking for the things she's missing with her husband.
How do I begin to describe Dirty Promises? I've been trying for days to put my emotions into words, but they seem to fail me. I'll start saying that this book was very intense, the suspense was killing the ever loving life of me, the frustration hitting high.
While Esteban was plotting behind Javier's back, I was very worried, but I was trying to sooth myself with the knowledge that nothing would escape Javier's notice, especially by someone like Esteban. But Javier wasn't the same man after the latest loss in his family. He is a changed man and Esteban takes advantage of this.
I was so torn, so sad to see this amazing couple drift away slowly but steadily. I couldn't believe that Esteban would succeed and as the book progressed I was getting more and more antsy and frustrated. My emotions were all over the place, because things were changing and I didn't like that.
I'm not going to say any more about the plot, but I will just say that I really enjoyed this wonderful journey. Karina has a real talent when it comes to words and her magic writing took me with her once again. I especially loved her aknowledgements note and the little surprise that she's planning for us. I can't hide my excitement & my impatience now that I know about this future project.
Copy was gifted by the generous Arabella. Thank you! <3