The Rules Regarding Gray by Elizabeth Finn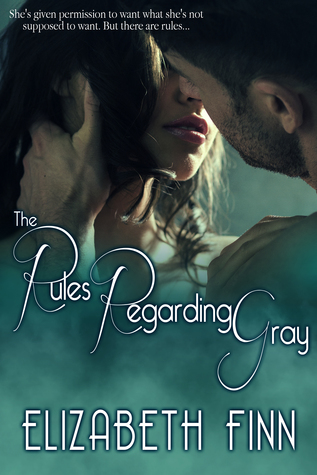 Gracelynn is drowning in an existence that fails to fulfill her. A ballerina by trade, she's devoted her life to the stage, sacrificing adventure for discipline. When her boyfriend gives her permission to want what she's not supposed to want, can she walk away? Or will she leap?
Jasper isn't a man with many boundaries, and "sharing" a woman with his best friend is hardly a new endeavor. But the moment he meets Gracelynn he realizes she's different. She leaves him feeling alive in a way he's not used to, and for the first time in his life, he understands what it means to be wanted… Cherished… And he needs more…
But there are rules—rules that forbid Jasper from truly having her. As forbidden desire spirals out of control, Jasper has to decide if he's willing to fight for something that doesn't truly belong to him. His best friend doesn't deserve her, but is Jasper strong enough to believe he does?
2.5-3 stars
"Someone gave you the chance to experience something new. You took it. You chose adventure over monotony. We make these decisions sometimes."
This is the story of Gray, a ballerina who's in a relationship with Ian for four months. Jasper is Ian's old best friend and when he gets to meet Gray, Ian drops the bomb..
"You wanna try her?"
They all talk about it and finally they agree to do this three-way-relationship, but with certain rules,that Ian had set beforehand. The thing is, Ian seems indifferent, so he lets them play alone without him and at the same time Jasper comes close with Gray, while Ian is an ignorant douchebag.
They come close after specific events that take place and we can see their struggle, as they try to stick to the rules, trying to figure out what to do with this insane situation. Ian doesn't seem like a good boyfriend material, but on the other hand Jasper isn't the relationship type of guy either.
"Heartbreak is part of life.
Don't be afraid of it,
because it can kick you in the ass
whether you fear it or embrace it."
I'm not sure how to rate this one. When I heard the blurb, I have to admit that I got excited. But, while reading this, there were many eye-roll moments and I got bored. I just wanted this to end and that's something that rarely happens to me :/
I really wished I had liked this one, but we can't love everything, right? Maybe this is a case of "This is not you, it's me". I liked the side characters, like G and Anna. And I also enjoyed the last 10% of the book. (view spoiler)[ I needed to watch some type of revenge for Ian, because I hated his guts. And the epilogue was sweet I guess. (hide spoiler)] I wish Gray had sort things out earlier in the book. (view spoiler)[ I don't get the reason she was holding onto her relationship with Ian, when it was obvious that she wasn't happy or satisfied.. (hide spoiler)] I believe if she had acted differently, there wouldn't be so much drama that could be escaped. Overall, it was a 'meh' read for me.
Last, but not least, I wish authors used some sense in their books. Honestly, Gray having unprotected sex with Jasper? The guy wasn't even her boyfriend! They weren't dating exclusively. He could be fucking others at the same time! He had a bar and she knew that he and Ian were having threesomes with other women before her..Where's the logic in that? It's not just having a baby, it's also getting HIV and other STDs. This is something that makes me VERY.ANGRY.