Harley & Rose by Carmen Jenner *Blog Tour & Arc Review*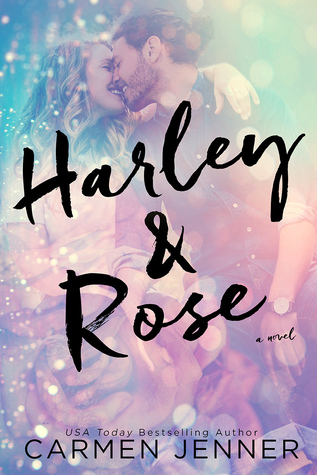 Ever since she was a little girl, thirty-year-old Rose dreamed of the day Harley would carry her across the threshold on their honeymoon. So what if this isn't her actual wedding day, and that she's only here because Harley was left at the altar just a few hours earlier?
Trading San Francisco for paradise and swapping her bridesmaid's bouquet for a Blue Hawaii, Rose hopes she can finally escape the friend zone.
Once upon a time they had been more than friends, but life got in the way. She's spent every day since wishing Harley would get a clue.
She's always been his best friend.
He's... not in love with her.
He's... marrying someone else.
He's... hiding something.
He's... well—it's complicated.
Rose has been Harley's best friend since they were five years old. She has been in love with him since then and she wishes to get married with him one day. She is his Wendy and he is her Pan. Fate has other plans for them. Especially when he is getting married with another woman and she meets another man. But Fate has not finished with them. Plenty of stuff will happen since his bride to be abandons him and they take off to his honeymoon together.
All I know is that there isn't a Rose without Harley or a Harley without Rose.
The story was probably the best I have read this year it's definitely listed as one of my top reads and I would definitely recommend it to anyone who loves a good friends to lovers story. I'm still dealing with a book hangover and I can't get it out of my mind. I haven't been able to pick up anything else to read since I finished it. It was that good and it shook me to the core. It's a devastatingly beautiful story between two human beings who grew up together. I loved the writing, the flashbacks, the thoughts and the emotional torment that provoked me. I know that I won't be able to forget this read and it will stay with me.
ARC was kindly provided by TRSOR in exchange for an honest review.