Love in Lingerie by Alessandra Torre **ARC Review**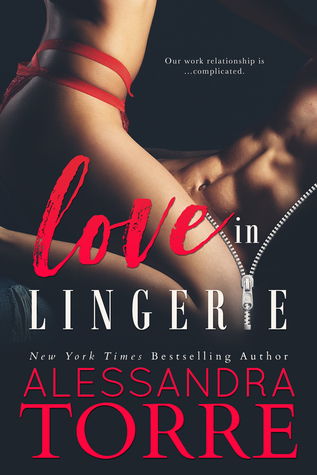 I hired her to fix my company, to bring Marks Lingerie back to life. I didn't expect her to become my friend. I didn't expect to fall in love with her.
The first rule of business is to never touch your employees. I think there is another rule about not falling for your best friend—a rule against imagining the curves of her body, or the way her breathing would change if I pulled down her panties and unzipped my pants.
Now, I can't wait any longer. I'm tossing out the rules.
Damn the company.
Damn our friendship.
Damn my fears.
"If my need was lingerie, it'd be blood-red, with lines that scream for attention."
Trey Marks has a company with lingerie that sadly doesn't go well and he needs to hire a new Creative Director. That's how Kate comes in the picture and starts working for him. There's no doubt that her boss is incredibly hot and their chemistry is palpable between them. But when it comes to business Trey doesn't want to mix it with pleasure and especially when the company needs to be saved and Kate seems like the one who will bring back the company from the ashes.
On top of all that, Kate is engaged and Trey's sexual lifestyle needs to be kept away from her, because he thinks that this could ruin their friendship or any potential future with her on his side either as a co-partner or not.
"My company needs her. I need her. And, unfortunately, so does my cock."
I truly enjoyed this story! It was a slow burn romance, with sexual tension off the charts, their chemistry was truly palpable and the scenes between them were scorching!! Especially the scene with the pen was my most favorite one!! There are many scenes that also made me laugh, their banter and generally their connection was amazing.
And even though that at first I had hesitated because I thought this would go down a way I didn't want to see, I trusted Alessandra and she handled everything smoothly. My only issue maybe is the timeframe that confused me a little and I didn't realise the amount of time that passed through this story. Also the way that heroine handled his secret didn't amuse me, but hey who am I to judge the heroine's thoughts and actions? I still loved the book and I think it's now one of my favorite AT books!!
Strongly recommended. Can't wait for everyone to read this one!! ♥♥